A Message to our Customers about Coronavirus:
Current Hours: Monday – Thursday 9am - 3pm. We are closed on Fridays, Saturdays and Sundays.
Unfortunately, because of COVID-19 and the need for proper social distancing, we are still unable to meet directly with clients in our office.
The only reasonable solution we could come up with is for everyone to drop off their tax papers in our drop box and we will call you with any questions. Mailing your information to us is also an option. When the returns are completed we will call you and set up an appointment time for you to come in to pickup and sign.

Our newly installed, larger drop off box is conveniently located to the left of our entrance door.
As soon as we get the ok to fully open back up we will post the updated information here.
We thank you for your help and understanding on this issue.
Stay safe and take care of yourselves and your loved ones.
The Management at Unison Tax Service
Welcome to Unison Tax Services, Inc.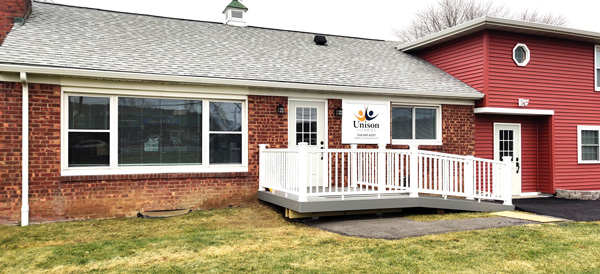 Hi everyone,

Welcome to Unison Tax Service! We are conveniently located on Route 9W in West Coxsackie, NY, just south of the traffic light, across from the car wash. We moved this year, but just next door. We are in the left side of the red and brick building (first left after the Family Dollar Plaza). Just walk up the ramp out front, our sign is hung directly to the right of our front door. For directions, please visit our "Find Us" page, or click here to pop in your location and get turn-by-turn directions.
IRS has announced the first day of efiling is on February 12th this year. Even though we will not be able to send the returns in to be filed until that date we are able to start preparing the returns once you have all of your tax papers.
Some Key Items to consider this year:
If you had to collect unemployment this year you must bring in your unemployment statement. NYS will not mail this out unless you call and request a copy. Anyone who has online access to their account can logon and access the 1099G form necessary to complete your taxes.
If you received the economic stimulus checks we will need to know the total received for the first round of checks and the total for the second round of checks. Please list them separately.. We need this to determine if you received all that you were entitled to. If you did not, then this amount will come back to you through your tax return.
Another new item this year is the ability to deduct up to $300 for charitable contributions without the need to itemize deductions. For married filing separate couples, each of you can only claim $150. Documentation of the donations is required.
If you had health insurance through the marketplace and had it subsidized by the government (Obamacare/Affordable Care Act) you must include form 1095A along with your other tax forms. Neglecting to include this with your return will cause delays and may result in changes to your return after the fact.
Identity Verification: Because of the Identity Theft issues that states and the IRS have run into over the last few years, IRS is asking we get more information to help to prove your identities. ** This information includes your Drivers License information or state issued identification card, passport or some form of government issued id.

If you are a new client, we will need information from your previous years returns to be able to efile this years returns, so please be prepared to provide that as well.
Also, for anyone who has been a victim of IRS Identity Theft, please bring in the pin number issued to you by the IRS.
If you choose to drop off your paperwork before the IRS officially starts accepting efiles be aware that we may not be able to completely finish the returns because of last minute updates that may be necessary.
. If you have any questions and can't reach us by phone, feel free to drop Debbie or Colleen an email at This email address is being protected from spambots. You need JavaScript enabled to view it. or contact Colleen at This email address is being protected from spambots. You need JavaScript enabled to view it..
Announcement by IRS for lower income families. A new law is requiring the IRS to hold back tax refunds claiming the Earned Income Tax Credit and the Additional Child Tax Credit until February 15th. Also be aware that it will take additional time to release the funds and for the financial institutions to process them. Factoring in weekends and the Presidents holiday the IRS is saying some people getting these credits may not see their refunds until the week of February 27th.
Personal Exemption amounts no longer exist. They have increased the amount of the child tax credit though and increased the amount you can earn before limiting how much of the credit you can receive though.
The standard deduction for married persons filing jointly and qualifying widows/widowers this year is $24,800, for head of household $18650 and for single or married filing separate $12400.
***With the enactment of the Tax Cuts and Jobs Act of 2017 many of you will not be able to itemize your deductions because of the increase in the standard deduction. For most of you, this will be beneficial. People with high property taxes and/or state withholding are going to be limited to a $10,000 cap, so those taxpayers may not fair as well. And unfortunately, taxpayers who previously took deductions for unreimbursed employee expenses will no longer be able to do so on the Federal level. It is important to note though, NY State made the recent decision to "decouple" from the IRS and some of those deductions no longer allowed with the federal government you will be able to do so on their return. It used to be if you took the standard deduction on the Federal level you had to do so on the state return as well. That is no longer the case with the decoupling. So, it is important that you still let us know if you have those expenses so that we can put in for those credits on the NY side.
The standard business mileage rate for 2020 is 57.5 cents. The rate for medical miles is 17 cents and for charitable volunteers the mileage rate is 14 cents a mile.
Also due to the Tax Cuts and Jobs Act there has been a reduction in the tax brackets. Most of you should have already seen this reflected in your paychecks. The withholding tables have been changed to adjust for this. Because of this, you may not see any changes in your refunds at the time of filing. It's going to be an adjustment year for many though.
The penalties for not having health insurance no longer apply. Anyone who purchased their insurance through the marketplace and has it subsidized by the government will is required to bring in tax form 1095A.
In prior years, we've been able to give you an idea of when to expect your federal refund. The IRS has notified us that they no longer will be issuing their refund cycle charts. Because of massive online fraudulent filings the last couple of years, they are having to be more diligent with checking returns for authenticity, thus some returns may take longer than usual to get back. You can still check the status of your return online though. Go to IRS.gov and click on "Where's my Refund" or click on the link provided below and it will take you where you need to go. If you don't have internet access you can call the IRS with questions at 1-800-829-1040.
***Once the return has been transmitted to the IRS, the status of the return is totally up to the IRS. We do not have any control over how quickly they process the returns or get the refunds get back to you.
If you go to IRS.gov or click the link on our site, you will need the copy of your return in front of you as you will need to answer a few questions to get the status. A receptionist can set you up with an appointment when you are ready to pick up your completed returns so just give us a call @ 518-947-6757. If call volume is heavy you may get put through to our voicemail, if this happens, please leave us a message with your name and best number to reach you at and we will call you back as soon as we can. If you would prefer, you can just drop off your papers and we'll call you when they are done. Please make sure to give us the best phone number to reach you.
*** Be sure to make note of any changes that may affect your returns!
If you're looking to check on your tax return status with the IRS or NYS, go to the following links:
For the IRS: http://www.irs.gov/individuals/article/0,,id=96596,00.html?portlet=105
And for NYS: https://www8.tax.ny.gov/PRIS/prisStart
Read more about Debbie and Colleen About Unison Tax Service, Inc.
Our Services
We offer numerous tax services for individuals. We also do Electronic Filing, with the option of direct deposit into your checking or statement savings account: Totally Free.